#CuffedUpCrew Spotlight: Courtney Newell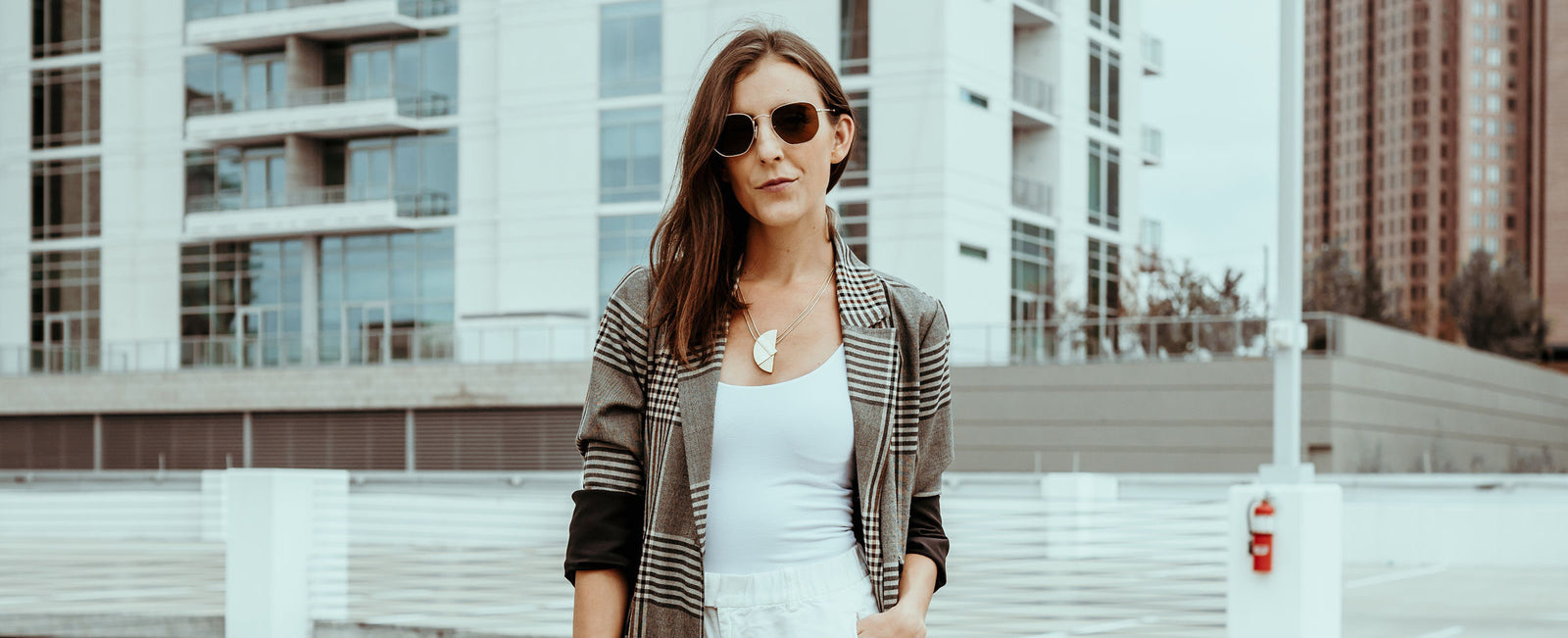 CU: COURTNEY! So excited to have you as part of our Crew. We love your style. How would you describe it?
C: My goal is to be effortlessly chic! I think a lot of us can overthink our style when really it can be so simple. I invest in staple pieces and dress it up with a flare item or fun accessory.
CU: How do you like to #GetCuffed?
C: Love the Cuff Rolls. They're great to wear with my blazers, oxfords, and jackets. For me, good style is simple but great style is in the details! I love being able to wear CuffedUp to polish my look with cuffed or rolled sleeves at a variety of lengths.
(Courtney used our Cuff Rolls to get this look)
CU: What's one word you'd use to describe CuffedUp?
C: Polished! Adding these to your look brings the outfit together. As I mentioned, I think you make a good outfit great by working with the details! This makes the overall look more refined!
CU: We absolutely LOVE your Da Vinci Pendant. What's the story behind it and how can we order one!?
C: I wanted to create an accessory you could put across a variety of simple looks and wear for almost any occasion and look just as fashionable as any fashionista out there without having to overthink it.
And that's really what this piece is all about — not having to overthink your wardrobe. And more than just helping you simplify your style, I'd like the piece to serve as a reminder of simplifying other aspects of your life too. 5 percent of each purchase will go to the National Alliance of Mental Illness, Dallas Chapter! You can purchase a pendant on my website, here.
CU: What plans do you have in store for Always Coco?
C: My vision for Always Coco is to not only to bring a versatile, go-to piece to your closet but to build a brand that promotes simplicity and brings awareness to our mental health.
In the next month, you can expect the piece to get even more personal! Stay tuned! You can also expect to see it at a variety of pop-ups and art fairs! I will be releasing my next design within the year! Lot's to be excited about!
CU: Oooo, we can't wait to see! What has been your favorite part of working on creating a fashion company in Dallas,TX (our home base?).
C: Dallas has such a wonderful start-up environment specifically in the fashion community! It continues to surprise me how much the community helps and supports one another grow together. The collaboration here is amazing!
>>Interested in becoming part of our Crew? Email us at
hello@cuffedup.com
with the subject line "CuffedUpCrew" telling us why you think you're a good fit for CuffedUp!
---