Why We See Style Differently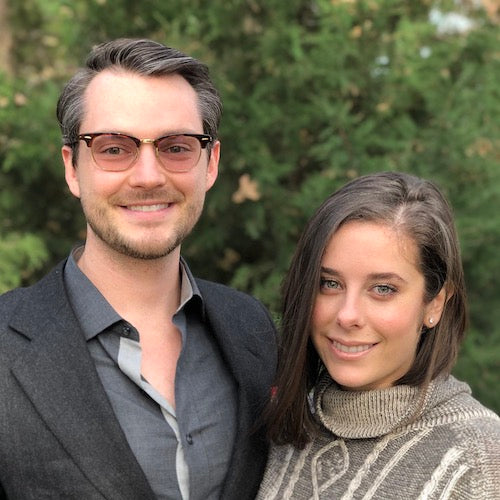 While we've shared how we got started and why we did it, we haven't given a look behind the curtain at our lives as founders. So here's the story of what Jon and I are all about, and why we approach style differently than most.
Above: Jon, Me, and our dog, Bandit.
About Jon & Me
I want to share why what you read on our blog or see in our Instagram feed is different than any other blogger or content site out there. But for you to get the full story, we gotta go way back — all the way back to the beginning.
Jon and I met in the Entrepreneurship program at the University of Oklahoma. He was my TA and helped me on projects. Yes, get the laughs out now. We bonded over our shared obsession with solving problems and our passion for creating! We love getting dressed up and expressing our style...
But we're totally in our element when we can get our hands a little dirty and create art together.
Above: CuffedUp since college! Jon & I had to always roll our sleeves when we created art. This is the beginning of our frustrations since my sleeves always fell in the paint!
Jon and I are artists and designers at heart. Our skills are grounded in creativity and new ideas. Jon plays several instruments and is an incredible designer. It will come as no surprise that he is the genius behind all of our branding and product design.
I'm a painter and serial entrepreneur. I studied design and trend forecasting under David Yurman, and I have been painting for four years. I opened my first jewelry business when I was 14(ish).
So what got us into fashion, and why do we care about it so much? 
Above: Jon and I have always loved getting dressed up for date night! 
The Two Worlds of Fashion: On & Off the Hanger
I've seen how the fashion industry operates from the highest levels. To me, the biggest problem in the fashion industry is that the consumer's needs come second to industry needs.  I've realized that fashion lives in two worlds: on the hanger and off the hanger. While everyone is focused on life on the hanger (ie: looks beautiful, perfect on models, great in the store, trendy) not many people consider it's life OFF the hanger- when you're actually wearing it! And that's where CuffedUp comes in. 
With Fall/Winter fashion week less than one month away, everyone in the space is talking about what trends we might see and what trends will go away. The good old "Keep, Store, Toss" game the industry likes to play.
But at CuffedUp, we approach style differently. Of course, we love looking at trends and everything the fashion industry has to offer. But to be honest, we don't think that being on trend is very important when it comes to having good style.
When you're getting ready in the morning, odds are you aren't worrying about what the latest high-end designer is putting on the catwalk. You also don't care if an affluent blogger rules that trend "XYZ" is out when one of your favorite tops is technically included in that trend. You're still going to wear it!
What You'll Find Here
On our blog, Instagram, and Facebook channels, you're not going to find a breakdown of every trend, what to buy, how to dress, etc… Because there are a bazillion bloggers, journalists, and designers that are already doing that. What you're going to find here is good ideas and inspiration that all centers around two things: how to make a style your own, and how to get more out of your closet.
One thing we love about CuffedUp (that was of the utmost importance during the design process) is that it can be used by anyone. Unlike some products that only button to a sleeve on a button-down shirt, CuffedUp can be used on anything, regardless of your sense of sleeve or rolled pant style. It doesn't matter if you don't wear button-downs or giant bell sleeves. As long as you have sleeves that need to be rolled, shortened, or styled with extra flare- you can get CuffedUp.
CuffedUp is more than about just keeping your sleeves rolled. We're about living and enjoying life as much as possible. We're about loving what we DO in our clothes more than the clothes themselves!
Cheers,
Maggie + Jon
---