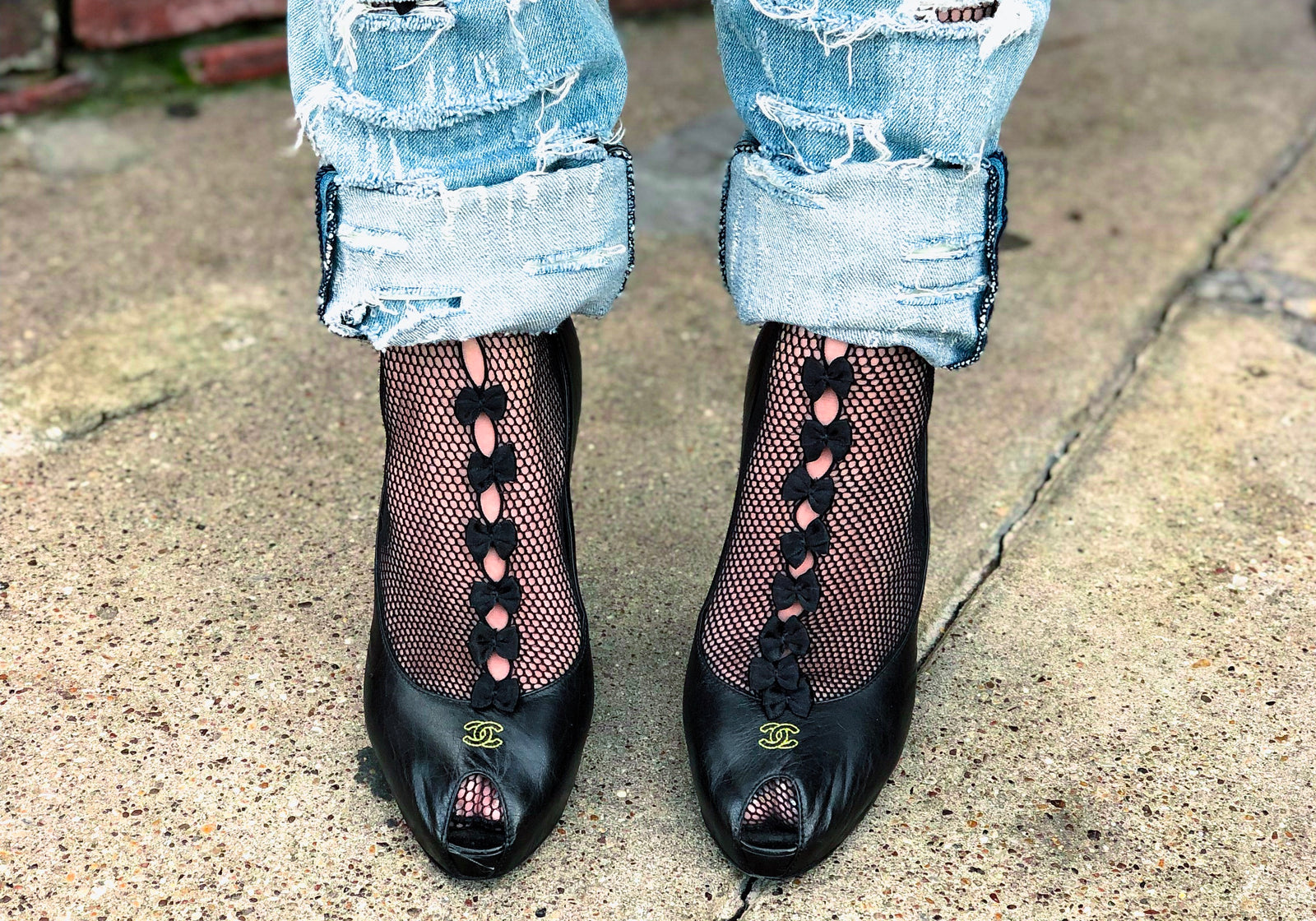 Earlier, I shared our passion for helping you get the most out of your closet. One of the best ways to revamp your style is starting with what you already have on hand! I have a bunch of stuff in my closet that I don't wear very often. I don't know about you, but I get in the habit of wearing the same items in the same way. I know that this shirt always looks great with these pants and these shoes… Hey, I know what looks good with what and I'm comfortable with that!
But there are items lurking in my closet that I bought and only wore once or twice. Like my velvet black-tie cocktail dress. I wanted to figure out how to make it more wearable. I played around to see if I could style it for something more casual. Check it out below...
And I loved it! I used CuffedUp on my denim jacket to keep the rolled sleeves perfectly styled all night. It even stayed in place while I played a few games in the arcade! 
I ended up pairing it with a denim vest, socks (!) and a crazy bohemian bootie. It was a curious attempt to try and make something formal into a completely different look. This really got me thinking, "What else do I have in my closet I need to play around with? What am I not wearing enough?"
I ended up pulling a pair of shredded jeans I hadn't worn in the last year, fishnets, and a vintage shoe. I picked one of my favorite silk button-downs to tie the look together using the Cuff Roll to create a great look on my rolled sleeves.
I love how the tights exaggerate the ripped denim. The bow-detail added a feminine touch. Without the bows, I'm not quite sure the heel I chose would work! I also think that it could've ended up looking a little too grunge — so the bows and peep-toe heel brought nice, delicate details that balanced the whole look.
And of course, I CuffedUp my jeans to get the perfect overall look with rolled up pants (which complimented what I had already done with my rolled sleeves). I love how I was able to get a clean cuff on these messy jeans. It's amazing how much those details tie the look together! Without the crisp, rolled cuff, I would've looked a little too messy and the shoes would've totally clashed.
If you don't have a pair of Cuffs Rolls from CuffedUp yet, click here to order them now!
I'm so excited to share more tips from my personal wardrobe. We'll be back soon with more outfit inspiration!
-Maggie
---